A Watercraft Repair Service
Center Trusted Worldwide
Dale R. Swanson, Jr, at 15 years old, decided he wanted a Kawasaki Jet Ski. Why you ask? It's simple. He rented a 1980 Kawasaki JS440 stand-up at a rental in Sebring, Florida and he loved it. Dale and his mother, Lee lived in Sebring for 2 years, and then moved to Plano, Texas, where Dale attended Plano East High School. Dale worked as a bus boy at The Hilton in Richardson, Texas until he was able to buy a 1976 Kawasaki JS400 standup that was shipped from Florida. The Kawasaki stand up was rusted solid, but that didn't stop Dale from buying a shop manual and tearing the Jet Ski down to the hull. Reading the shop manual, a lot and searching for parts was Dale's main focus until he got the standup running.
Before the shop was even thought of, Dale worked at his house and built his first test tank that was used for testing the standup. Word got around to his friends and neighbors that he was fixing Jet Skis at his home. It wasn't long before he had customers knocking at his door. In 1984, Dale attended the International Jet Ski World Finals in Lake Havasu City, Arizona, which got him interested in racing. This started his career modifying jet skis for the local races. In the early 1980s and 1990s, Mid-America and Third Coast Racing were our local affiliate race promoters. In 1985 Dale's Jet Ski was established. In about 2 years Dale moved Dale's Jet Ski from his house to a building on the corner from where the shop is today.
Dale also worked at a boat rental in the early 1980s that was located at Lake Lavon. In 1988 he bought the rental and ran it with his mom. After the boat rental had been operating for 5 years, it was sold in 1993. The following year, Dale's Jet Ski was changed to Dale's Jet Sports with the "Bad Attitude, Performance by Dale's" logo added. Dale was asked to help design a book that would give more knowledge about what affects the performance of personal watercraft (PWC) and how you can modify PWCs to go faster. This book was published by Touchstone Publishing Service in 1993.
In fact, Dale became familiar with some modifications that would enhance Jet Ski performance and he showed interest in the electrical systems. He used the Motoplat ignition taken from motorcycles and installed them in the PWCs. Over time the Bad Attitude CDI ignitions and the Total Loss ignitions were created to run on all the Kawasaki 650s and many other two cylinder engine models.
In the 1990s, the personal watercraft industry really took off, quickly going from single riders to double and later triple riders, which were known as runabouts (sit-downs).  Dale's Jet Sports saw the chance to expand its business and needed more space. It just so happens that land across and down the street was vacant for sale. Around 1994, the land was purchased and the new Dale's Jet Sports building was on course to being built.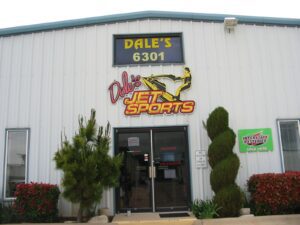 The "Big Move" happened January 16, 1996. This new 3750 sq. ft. building provided a front showroom that has a full line of aftermarket parts and accessories, a private office, kitchen/break room and assembly room. Dale's Jet Sports' complete machine shop offers either the ability to repair to OE specs or custom modify all engine components. Having an in-house machine shop gives Dale complete control of repairs and modifications. A large service area allows him to work on multiple watercrafts. The outdoor test tank helps improve diagnostic time, not requiring frequent trips to the lake for testing.
For the next several years, Dale's focus was on developing a reliable shop that could offer many different services to help maintain the PWCs owned by customers. He also built up a library full of different brands of Service Manuals for servicing Stand-ups, Runabouts, Boats, some Motorcycles and ATVs. During this time in 1999, we lost an important member of our staff, Dale's mother, Lee. She was his partner and helped to make Dale's Jet Sports what it is today. It was during this time that a new addition of 4500 sq. ft. was added to the back of the building.
Starting in 2000 Dale was approached and asked to become the engine builder for several different Race Teams through the coming years.  As the shop became well known in the Racing World, Dale began hiring a staff that would become knowledgeable about PWC and Boat Services, allowing him to focus on modifications that helped with performance and speed. One staff member known as "Kat" has been with Dale's Jet Sports for 24 years and is well known for her Customer Service and Office Manager skills. The shop became so busy with referrals from other shops and our customers that we had to come up with "The Waiting List". We attracted a lot of customers when we had a booth for several years at the Dallas International Boat Show, which provided an opportunity to work with dealers in the Metroplex and then later with dealers all around the US.
At Dale's Jet Sports we value the opportunity to create a long-term relationship with our customers and we do that by giving you outstanding customer service.   Over the years we have come a long way. While we are still what some would consider a small "mom and pop" shop we go above and beyond to satisfy the customer. Our customers' happiness, safety and satisfaction are definitely our #1 Priority.
The staff at Dale's Jet Sports is looking forward to the future and feels very grateful for the past.